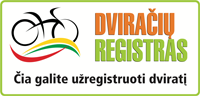 In the shop of Ltd. "Velovita" you can registrate your bicycle to the system dviraciuregistras.lt. The system of bicycle registration will help you to inventory your bicycles and keep their data. If it's needed this system will provide the information about the bicycles that belong to you and, in the case of steeling, in cooperation with law institutions, will give all the necessary details about an accident.

The aim of LBBA bicycle data basis:

1. To provide preventive assistance in the way of steeling, to give as many possibilities as possible to identify, find and return stolen object.
2. To give the chance to check up if the used bicycle you want to buy is not stolen.
3. To prove that bicycle belongs if the documents are lost.
4. To gather and collect data about bicycles used in Lithuania, to analyze statistics, to use available information about bicycle trails and their expansion for a better atmosphere for riders in Lithuania.

The use of the system is not compulsory; however, this system's actions are pointed to the increasingly growing demand to fight for your property protection.